Today, Here I will share with you my personal Best Pc Cleaner Software to Clean Your Pc. If you are looking for free cleaning software with some great features this article is handy for you to choose the Best Softwares To Clean Pc/Laptop. And the software is completely free and has an amazing performance. Before starting the discussion if you are visiting our website Fullonbuzz for the first time, please do subscribe to receive all the blog updates directly to your inbox and also make sure you allow push notifications so that you will receive push notifications to your devices whenever a new article is published.
Most people assume that a slowdown in their PC speed is unavoidable. Of course, All the electronic components will slow down their performance as age goes on and one needs to take care of their Pc by cleaning hardware and Software frequently to keep your PC running faster and more efficiently. Physical hard disks and SSDs performance go down when they fill up with junk and unnecessary files. Deleting those junk files and will claim back a little bit of that speed.
Top Best 5 Pc Cleaners to Clean Up The Pc/Laptop
Here in this article, I will share your Best Pc Cleaner Softwares to Clean your Pc Junk Files and boost up your Pc Speed. Guys, If you are new to our website "FullonBuzz"  please do subscribe to receive all the latest updates directly to your inbox and also opt in to push notifications to get notified about the new articles.
Wise Disk Cleaner
Wise Disk Cleaner is one of the greatest disk cleaning software that I have found on the internet and it is completely free. Wise Disk Cleaner can free up disk space by deleting junk files such as temporary files, log files, index files, and backup files. It securely cleans up useless files and makes your computer runs faster. It protects your privacy by cleaning Internet history and other privacy traces on your computer. Improves your pc performance by defragging and rearranging files on disk. There are many more interesting features like automatic disk cleaning and scheduled cleaning. It is suggested to give a try and observe the changes on your Pc/Laptop.
Bleachbit
Bleachbit Pc Cleaning Software Cleans Your System and Free Up The Disk Space. If your Pc is getting full with Junk Files, Bleachbit frees up disk by removing the junk files. When it comes to privacy it guards your privacy by deleting cache, delete cookies, clear Internet history, shred temporary files, delete logs, and discard the junk. BleachBit includes advanced features such as shredding files. BleachBit is open-source software designed for Linux and Windows systems.
Iobit Advanced SystemCare 13
Iobit Advanced SystemCare 13 is a free pc cleaning software to sweep junk files and privacy traces, remove potential threats, and also increases internet speed. Advanced SystemCare 13 can deeply clean more than 26 kinds of junk files, such as system logs, temporary files, image caches and updates caches with just one click. It has more interesting features like Internet Booster feature to boost Internet Speed, Privacy shield allows users to block any suspicious processes and turbo boost stop any unnecessary programs and releases RAM and boost your pc.
Super Pc Care
Super Pc Care is a one-stop windows maintenance tool that provides an all-inclusive cleanup and maintenance suite for Windows users. It detects and removes malware, virus, adware, spyware and infected files thereby protecting your pc from data loss and corruption. It removes junk files and recovers the storage, removes unwanted startup programs, privacy traces and invalid registry errors. Super Pc Care Provides all-round protection.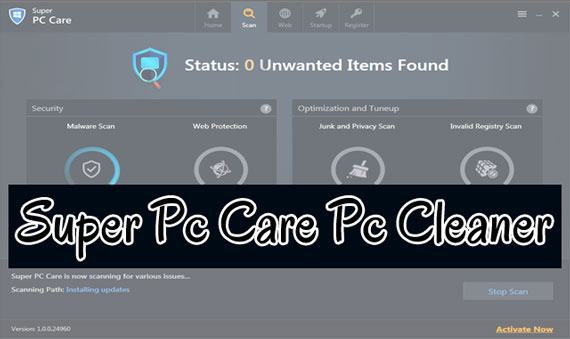 Glarysoft
Glarysoft's Glary Utilities is the Free, Powerful and All-in-one utility for cleaning your PC. Glary soft can boosts PC speed and fixes frustrating errors, crashes, and freezes. Glarysoft has advanced features with one-click functionality and easy automated options. Glary Utilities has over 20 tools like registry repairs, tracks eraser, duplicate cleaner, Disk Cleaner and Speed Up to maximize your Computer's performance. Glarysoft's Glary Utilities is one of the most consistently popular and most frequently recommended system utilities.
I hope these, Free Pc Cleaner Softwares helps in cleaning your Pc and boosted your Pc speed. We would like to hear your experience and feedback with these pc cleaners. Do share your feedback and experience in the comment box.