Hi there today in this article, let's talk about WI-FI Calling Or VoW-Fi Feature. Right now as of information Wi-Fi Calling is known to available with both JIO and AIRTEL  Networks. Here I will share with you all about Wifi Calling feature VoWi-Fi, What Is Wifi Calling, How it Works, and How to enable Wi-Fi calling on Mobile Handsets. Guys, If you are new to our website please do make sure you subscribe for the latest tutorials and turn on push notifications in order to get notified of new article publish.

What is Wi-Fi Calling – VoWi-Fi?
And the first question you might be asking is What is Wifi Calling. Wi-Fi Calling was technically known as "VOICE OVER WIFI – VoWi-Fi" is a path-breaking technology that allows customers to make and receive calls over a Wi-Fi network using their mobile numbers. Here Instead of calls going over the cellular network, they go over your broadband network so you can make your calls using WIFI Networks instead of Cellular networks. Interesting right!!!! Here I share your full information about VoWifi Setup and VoWifi Supported Networks, VoWifi, or Wifi Calling Supported Devices.
Advantages of Wi-Fi Calling and VoWi-Fi
Now let's see some advantages of Wifi Calling. And the biggest advantage of Vo-Wifi is that you can make calls without getting disconnected or interrupted in places with low and weak cellular signals like in remote areas or cellular-dark zones of a building. I'm pretty sure there might be some places or areas where you could find have very low signals maybe just one or two signal bars in your handsets. Due to weak signals more frequent calls used to get disconnected and the call quality was also low and bad.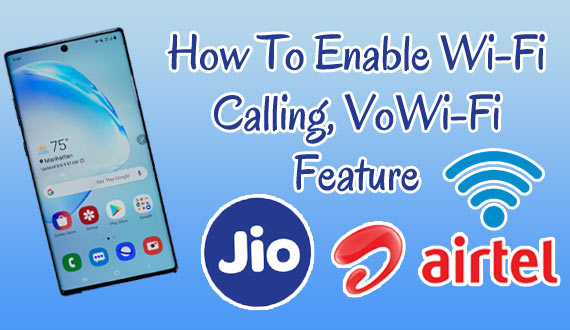 But now you can use your broadband connection to let your calls go over wifi and because of this, the calls will be crystal clear and relatively very fast also.
VoWifi Or Wifi Calling What Supported Networks
As of now, Wifi Calling is Supported by Only JIO and Airtel Networks and the VoWifi is working fine with these networks. Right now, the Airtel Wi-Fi Calling feature is enabled across India except in Jammu and Kashmir.  While the Jio Wi-Fi Calling Feature is available across all over India.
Which Handsets Support VoWifi And Wifi Calling?
To enable or How to turn on Wi-Fi Calling firstly check the handset eligibility
WiFi Calling on iOS Devices: iPhone 6s, iPhone 6s Plus, iPhone 7, iPhone 7 Plus, iPhone 8, iPhone 8 Plus, iPhone Se, iPhone X, iPhone Xs, iPhone Xs Max, iPhone 11, iPhone 11 Pro, iPhone 11 Pro Max, iPhone XR.
One Plus Devices: OnePlus 7, OnePlus 7 Pro, OnePlus 7T, OnePlus 7T Pro, OnePlus 6, OnePlus 6T, OnePlus OP8, OnePlus OP8 Pro
WiFi Calling on Xiaomi Redmi Devices: Redmi K20 and K20 Pro, Redmi 7 and 7 Pro, Redmi 5, Redmi 7A Redmi Y3, Redmi 8, Redmi 8A and 8A Dual, Redmi Note 8, Redmi Note 9 Pro and Note 9 Pro Max, Redmi Note 7s, Redmi Note 8 Pro.
Samsung Devices: Samsung J6,  A10S,  M30S, ON6,  M20,  S10e,  S10,  S10 Plus, A30S, M30, Note 10, Note 10 Plus, A50S, Note 9, S9, Note 10 Lite, S9+,  A51, S10 Lite, M30, A30, S20, S20 Plus, S20 Ultra, A71, Z Flip, M31, M40, A80, M21, A7.
And many other handsets of other brands Nokia, Vivo, Itel, Infinix, Oppo, Realme, Spice, Tecno, Mobiistar, Coolpad, Gionee, Micromax, Xolo, Poco, Huawei, LG. Find more devices that support airtel and devices that support JIO here.
Pre – Requisites To Enable Wifi Calling Or VoWi-Fi
A Smartphone With Wi-Fi Calling Capability
An active 4G SIM
How to Enable Wifi Calling or VoWifi on Handsets
Primary thing is to Update to the latest software version because most of the handsets like Realme, Redmi, Poco, Vivo, Oppo are receiving Wifi Calling in new OTA updates. So it is highly recommended to update your device to the latest software version.
After updating to the latest version now go to settings and find wifi calling feature and enable it. I have provided the guide for different handsets to choose your device and proceed below.
Apple Devices: Go to Settings > Mobile Data > Primary SIM or eSIM > Wi-Fi Calling > Turn on Wi-Fi Calling option.
OnePlus Devices: Go to Settings > Wi-Fi and Internet > SIM and network > SIM 1 or SIM 2 > Turn on Wi-Fi Calling option.
Xiaomi Redmi Devices: Go to Settings > SIM cards > Mobile networks > Select Operator > Sim Card Settings > Turn on Wi-FI Calling.
Samsung Devices: Go to Settings > Connections > Wi-Fi Calling > SIM1 or SIM2 > Switch On Wi-Fi Calling.
Realme: Go to Settings > Dual SIM & Cellular Network > Select Operator > Turn on Wi-FI Calling
Micromax Devices: Go to Settings > More > Wi-Fi calling > Turn on Wi-Fi Calling option.
Coolpad: Go to Settings > Network & Internet > Mobile network > Select Operator > Wi-Fi calling > Turn on Wi-Fi Calling option.
How do I make Wi-Fi calls?
Once you set up Wi-Fi Calling, You can call anyone as you do the traditional voice calls. Your phone will automatically toggle between Wi-Fi and cellular network to provide you a seamless call with the best experience.
I hope this article is helpful to you in knowing about Wi-Fi Calling and Enabling VoWiFi on your mobile handsets. If you are already using this Wi-Fi calling feature, I would love to hear about your experience. Do share your feedback and experience in the comment section below.