Garena Free Fire is well known as Free Fire Battlegrounds or Free Fire Mobile is an online multiplayer battle royale game published by Garena for Android and iOS devices. It is one of the most downloaded battle royale games in the stores. I hope you are well known for its gameplay, The game starts with 50 players abandoned in the battleground in search of weapons and supplies. The free-fire battleground's aim is to kill other players and survive till the last.
Garena free fire can be installed on any graphics-supported android and iOS mobile devices. We found that free fire can be installed and played on both high-end and low-end devices. Ever since free fire is observed to play with 2GB Ram, 4GB Ram, 8GB Ram. However, this is the game that has many upgradeable features such as free-fire character skins, weapon skins, and many more. When it comes to rendering all these things and graphics you might experience some lag issues with low-end devices such as 512MB Ram, 1GB Ram Android devices. Here in this article, I will share a few tips that will fix lag in the free-fire games and run smoothly in 1GB, 2GB ram android devices.
Tips for having a better playing gaming experience

Follow the below tips to improve performance and fix lag in the free fire game without any third-party app. These tips are not only for FREE FIRE GAME, but Many other graphics also enabled games like PUBG MOBILE, COD MOBILE can be played without lagging and run smoothly by following these tips.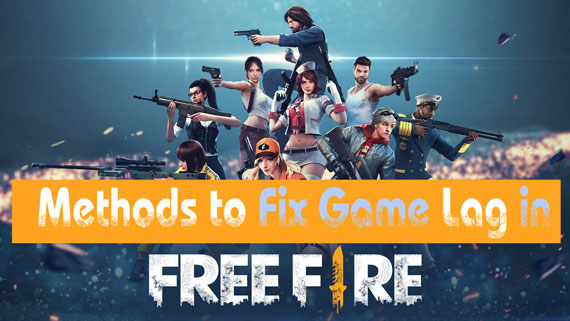 Choose advanced processor
Free Up The RAM
Keep Stable Internet Connection
Clear Cache
Stop Background Apps
Uninstall the Less frequently Apps
Remove Live Wallpapers and Widgets
Disable Transitions and Animations
 Turn on Do Not Disturb Mode to turnoff Notifications
How To Fix Lag In Garena Free Fire Game With Low-End 1GB, 2GB Ram Mobile Devices
It is well known that the processor speed and amount of ram allocation will play a key role in the smooth running of any application on the devices. Similarly, the rendering of the graphics in the game also depends on the speed and memory(ram) allocated. Read the Free Fire OB22 Update Patch Notes. Actually speaking the mobile devices with 1GB Ram also can run free fire games smoothly when a sufficient amount of ram and speed is allocated to the game. Actually speaking Free fire games can be played on low-end 1GB Ram mobile devices without lag on making your device optimized. So if you are looking for a guide on how to play free fire with 1GB ram without lag and smoothly find the tips below.
1) Turon off Notifications
Guys, recently I came across a guy playing a free fire game smoothly and without lag on a 2GB Ram mobile device. He explained that the main reason for stuck and lag while playing free fire game on low-end devices is because of Notifications alert. It is highly suggested to turn off the notifications while playing the free fire game to reduce lag and FPS issues. Turn on Do Not Disturb Mode to turn off notifications alert while playing.
2) Clear Background Running Apps

When you are about to play the game make sure to clear the background apps and start the game. Running multiple apps will reduce the performance of the device and causes the game lag.
3) Remove Unwanted and Over Consuming Unused apps
Firstly you want to identify the unwanted and unused applications that are consuming more ram and remove them.
Click on the SETTINGS on your devices and find the option APP MANAGEMENT.
Under App management, you will find out the apps which are installed on the mobile device.
Now the next step is to find and sort out unused APPS WHICH ARE CONSUMING MORE RAM.
Remove those apps from your mobile device.
4) Clean Up The Internal Storage Space
Unwanted large files such as videos, audio, images, applications will fill up the storage. Cleaning storage will boost the performance of the mobile such as lagging etc. To clear the unwanted large files navigate to your file manager and scan for large files and clear.
5) Turn off the Battery Saver Mode
Batter Saver Mode is something where the processor, ram, and memory run at minimal consumption to save battery. When you turn on the battery saver mode it is suggested not to play any games or graphics enabled applications that obviously result in lagging performance. It is highly suggested not to play a free fire game in battery saver mode.
6) Remove Live Wallpapers and Live Widgets
Live wallpapers and live widgets make your mobile device more lucrative snd impressive but it eats up more ram compared to static widgets and wallpapers. To allocate enough ram it is suggested to remove the live wallpapers and widgets.
7) Remove or Turn off Animations & Transitions
Transitions and Animations will cost more ram consumption. Disable the transitions and animations in low-end mobile devices will release the ram consumption. So that you can allocate the released ram to play the free fire game.
To disable this option Unlock the developer options by going to "Settings" -> "About Phone" and continuously tap on "Build Number" until the "Developer Options" will appear or turn on.
Now after enabling, Go to "Settings" -> "Developer Options" – -> "Window Animation Zoom" and "Transition animation scale" and "Animator duration scale" and turn off the scale.
8) Clear the Mobile Device and Free Fire Game App Cache
Sometimes cache will make your phone heavy with log files and many more junk files. It is suggested to clear the temp cache memory of your phone, frequently. This helps your phone to run smoothly.  Go to Settings -> Clean Storage -> Clear Cache.  It is also suggested to clear the free fire app cache too which will delete the unnecessary logs, files stored. To clear cache Go to Settings -> App Management -> Free Fire App -> Clear Data.
9) Maintain Good Internet Connection
Lag issues are mainly found when there is a bad ping. Ping is something that depends on your internet connectivity, If you are having good internet connectivity you will have a good ping that can give you sharp action to reaction. Below are a few tips to maintain stable net connectivity and fix lag in Free Fire Game.
Always try to use WIFI connectivity Instead of Mobile Data.
Try to stay closer to the WIFI router for stable connectivity.
Avoid using a VPN as it slows down your connectivity.
FIRE GFX Tool – Fix Lag In Free Fire Game with 1GB RAM, 2GB RAM Mobile Devices
Fire GFX Tool is an external mobile application that allows you to adjust graphics, FPS, Resolution Ping of the Free Fire Game in low-end mobile devices.
Features of Fire GFX Tool
Speed up internet connection
CPU Turbo
GPU Turbo
RAM Boost
Junk Cleaner
Graphics Optimization
Download Fire GFX Tool From Google Play Store
You can optimize your device to play a free-fire game for a better gaming experience. Below are the optimized settings to be adjusted using this Fire GFX Tool.
Resolution: Resolution is the ability of a device to render and show an image clearly and with a maximum of details. In GFX Tool you can observe many resolution options set the resolution depending on your device. For better performance, the best graphics and smooth experience set the 1280 x 720 resolution. If you are having any lag issues set the resolution to the lowest value and check the performance.
FPS: FPS Stands for "Frames Per Second." It is used to measure the frame rate and video game performance. The frame rate is the number of consecutive images that are displayed each second. Pick the 60 FPS for a smooth and better playing experience without frame drop and lag.

How to Fix Free Fire Game Lag

Shadows: Turn off the shadow option in the game.
Style: Style option sets the color in the game you can choose any of the options based on your device display. Mostly classic is the most chosen option.
Graphics: Set the graphics to So smooth.
Graphics API: Turn off Graphics API for stable FPS and good gameplay. But for best gaming, and smoother experience enables the graphics API. Enable it only when you have high-end mobile devices.
After successfully setting up all the required settings "SAVE AND EXIT". Now launch the Free Fire Game in your device you might observe few enhancements in the game graphics and rendering. I hope our tips help to fix the free fire game lag with your low-end device. Follow this page for more optimization settings.