What's going on valorant gamers!!!! Today I'm going to teach you how to use the text chat in valorant and valorant commands. Well before we get more into the article, If you are new to our blog subscribe and turn on push notifications on that way you stay up to date with my content. Whatever the game it might be PUBG, FREE FIRE, VALORANT to defend the enemies a perfect communication is important.
Valorant is one among the shooter game which is played also in competitive mode needs a perfect communication between the players to defend the enemies and win the battle. Perfect communication can be achieved either by Voice Chat or by Text Chat. Voice chat is the most preferable and recommended for everyone. But there might be some situations where the voice chat quality would be poor due to microphone issues and low-quality headsets. In such cases, Text chat will be handy for the players so it is highly suggested to have the knowledge of Valorant Chat Commands for chatting in the game. Every valorant player must be aware of text chat and the valorant chat commands.
How To Use Text Chat in Valorant Game, Team Chat, All Chat, Whisper Chat, Valorant Chat Commands
Let's get back to the conversation that not many people know how to do text chat in the game especially if you've never dealt with any Riot Games before you'll not know how to use the text system it's pretty simple to send messages in this awesome game valorant so let's jump into this article and let me show you how to send messages in valorant game.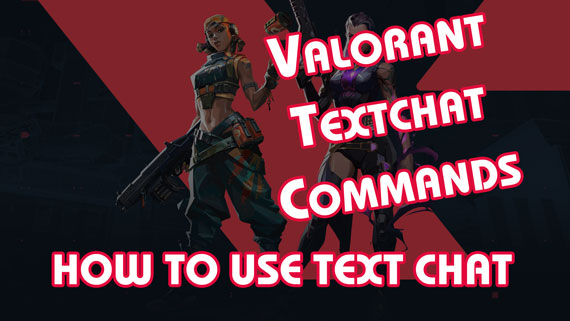 Guys, have you ever encountered an error while launching or playing valorant game? If yes, I got covered some of the common valorant error fixes and solutions. Check out valorant errors page and prepare your Pc/Laptop for tips to play valorant game. Now check out some Valorant Chat Commands.
Valorant Chat Commands List to Text Chat in the Valorant Game
Team Chat: Firstly know how to communicate with your teammates using TEAM CHAT. For Team chat simply press the "Enter" key and type your message and press ENTER to send your message to your team.
All Chat: The second one is all chat which includes your opponent's enemy chat. To communicate in all chat all you need to do is SHIFT + ENTER,  and then type "/all" your message and press ENTER to send a message to all the players in the game.
WHISPER CHAT: And the last one is the whisper chat where you can send a message to a certain player in the game. To do that just press CTRL + ENTER, Type the player's name, and hit the tab to type your message.
This is how you can use the valorant chat commands in the game for effective communication between the teammates whenever there is no possibility of using voice communication.
How To Mute Text Chat of Teammates and player in Valorant Game.
In team chat, you can also mute the player's text chat. To do that go to text chat and pick which people you want to mute and "Click on the Mute". And also if you're having issues with the people on the other team saying inappropriate things in the text chats. You can simply just go in and mute all of their text chats so you don't have to see what they are typing in the text chat.
How to use Emojis Text chat in Valorant Game
Here I gonna show you how you can use the valorant emojis using the valorant commands. Many other people don't know this. Actually, whenever I use them in my game people are like how are you using them. So basically it's nothing pretty complicated you just have to use a combination of two keys like below. Just combine two keys which are the ALT key and the NumPads on your keypad that is on the right side of your keyboard. Below are the valorant commands for emojis.
Alt + 3 will get Heart Emoji
Alt + 4 will get Spade Emoji
Alt + Any double-digit number ie from 10 -99 will give you random emojis.
So you can just have fun with this and put this in your chat and people will go crazy.
However, only a few chat commands are available in this game when compared with other riot games like League of Legends, etc… Hope in coming updates more text chat commands will be made available in the game. Let's wait for more valorant chat commands.