Straight silky shiny hair always gives a good impression. Everyone desires to have good, smooth, and shiny-looking hair. But only a few people have good-looking and shiny hair.  Fortunately, there are many ways to achieve smooth silky shiny hair naturally. In this post, I will be showing you the best natural home remedies to get smooth, shiny, silky hair from home. Knowing the root cause of a problem will help to find the required solution and to treat the problem in a correct manner. So here I will show you what is the reason behind Dry Hair and Dull Hair. Then I will show you the most possible effective home remedies to treat dry and dull hair and make it smooth, shiny, and silky naturally.
Why the Hair Looks Dull and Dry?
Your hair looks dry when the scalp doesn't make enough oil to moisturize your hair. When your hair doesn't get enough moisture it starts to look dull, lifeless, dry. Dry hair is generally found in Men and Women of older ages as the intake of necessary vital elements will below. In teenagers, if you are having dull or dry hair it is easy to achieve smooth and silky hair naturally by following the below Home Remedies To Keep Your Hair Silky, Smooth, Shiny.
Tips to Avoid Dry Hair and Get Smooth and Silky Hair
Avoid living in Hot Climatic Conditions.
Should not Wash Your Hair more frequently.
Avoid using harsh shampoos, hair conditioners, styling products.
Avoid chemical treatments for hair.
If you are having Hairfall Problem look at our tips here
Best Natural Ways, Home Remedies To Keep Your Hair Silky, Smooth And Shiny from Home using Banana and Milk
Get Silky, Shiny, Straight Hair In 15 Minutes – Naturally At Home with Banana, Honey, Milk Mix. If you have ripened bananas don't throw it away you can use them to make a hair mask to make your hair smooth, silky. Bananas help to give you a soft, shiny, silky look to your hair.
Required Ingredients:
   One Ripen Banana
   Honey
   Fresh Milk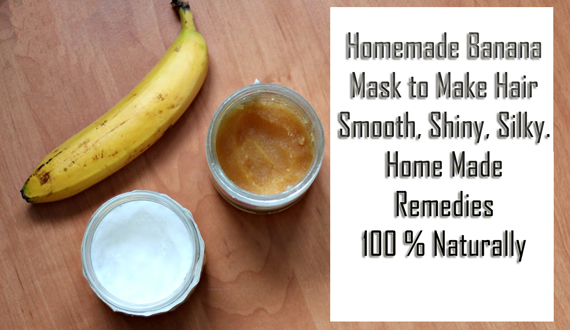 Peel off the banana and take out the pulp, add one cup of milk, and 1/4 tablespoon of honey. Blend the mixture into a smooth paste and apply it to the strand of hair. Let the hair dry for 1 hour and then shampoo with herbal shampoo. If you are having DANDRUFF PROBLEMS See our Guide here to reduce dandruff.
Other Combinations of Banana
Avocados and banana help hair to have a smooth and shiny look. Mash one Avocado and one Banana into the paste. Gently massage the paste to hair and allow to sit for one hour and then rinse out with herbal shampoo.

Get Shiny, Silky and Soft Hair Naturally – Homemade natural mask for dry hair using Eggs, Yoghurt, Olive Oil, Lemon juice
This mix provides all the necessary required elements for hair smoothing and shining. Eggs are a good source of protein and yogurt, lemon juice is a good source of vitamins. This mixture will give full nourishment to hair.
Required Ingredients
   1) One Egg (If your hair is normal to use both yolk and egg white,
        If your hair is oily and greasy use only egg white 
        avoid using the egg yolk)
   2) Yogurt
   3) Olive Oil
   4) Lemon Juice
Take a clean bowl and Beat the Egg white or whole Egg depending on your hair type. If you have long hair you can take 2 or more eggs. Add 1/4 tablespoon of yogurt and mix it well. Now add 2 tablespoons of olive oil or coconut oil or almond oil and then add 1 tablespoon of lemon juice. Mix the mask as it appears as a smooth paste. Massage the mask thoroughly into scalp from the roots of the hair to the hair ends. Allow the mask to sit for 15 minutes and then shampoo your hair with herbal shampoo.
Other Combinations of Egg:
Mix the avocado and egg yolk together in a bowl. Then apply the mixture to your hair and leave it on for about 30 minutes. Rinse out of your hair with warm water or herbal shampoo.
For effective results and to see hair getting straight, silky, shiny use this mixture more frequently. The best part is that this treatment is completely natural and it won't damage your hair at all. Guys comment on your results and share your feedback here with readers.
DISCLAIMER: This article is for educational and informational purposes only. While we have tried to ensure that the information is sound and accurate, we cannot guarantee its accuracy. The information on this page should not be substituted for professional medical advice and opinions. If you are experiencing any ailments, serious or otherwise, always seek professional medical treatment and advice.